Primary and secondary schools
Furnishings designed to create functional environments in primary and secondary schools
Furniture for primary and secondary schools
School classroom furniture is often unattractive and impersonal, with dull colors and poor quality materials. Gonzagarredi created an attractively designed school furniture arrangement with high-performance materials for the Della Valle Primary School in Casette d'Ete, the school that the President and CEO of Tod's, the Italian leather goods enterprise, donated to his town. These furnishings have now become part of Gonzagarredi's new school furniture line.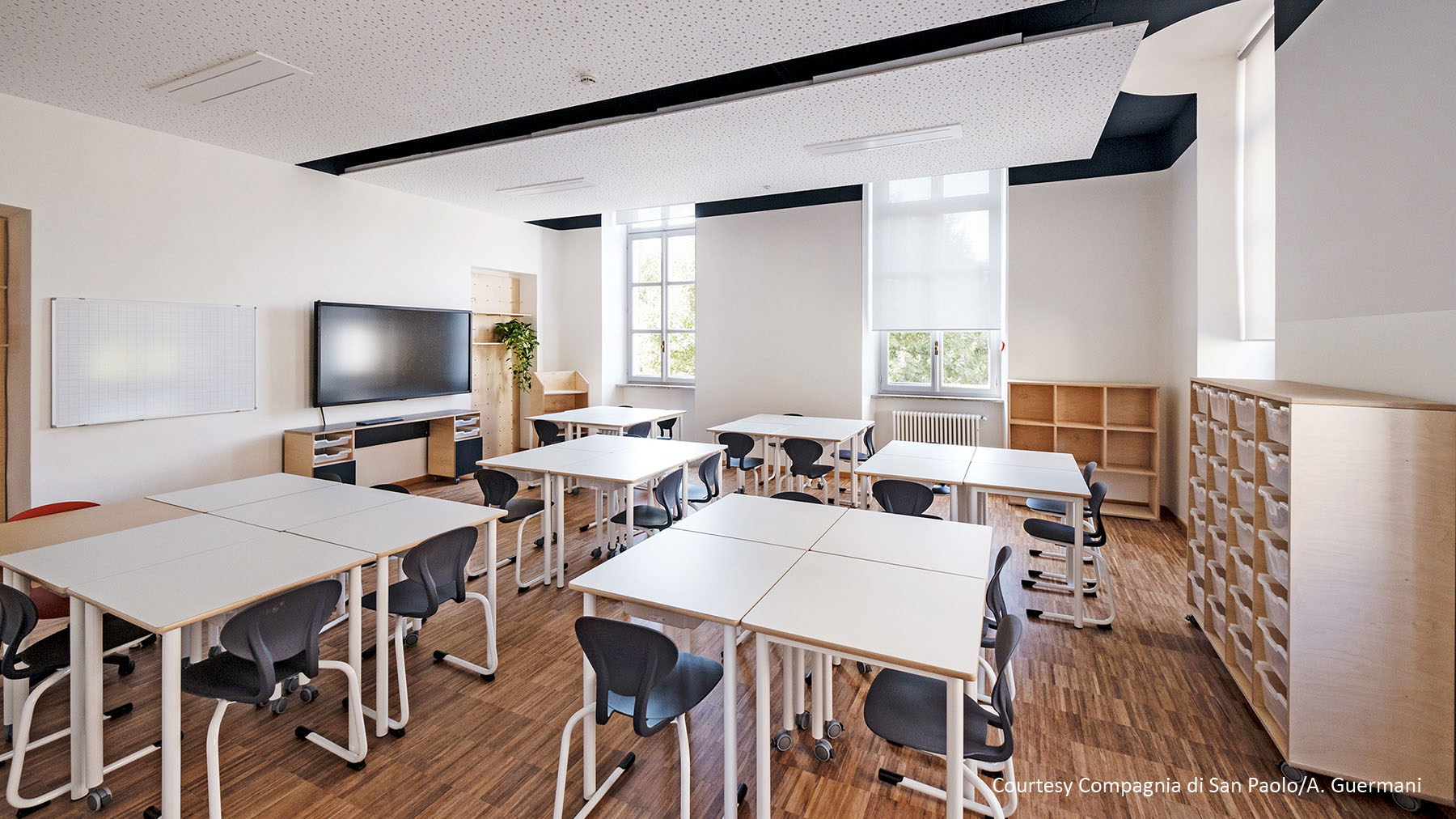 Furnishings designed to create functional environments in primary and secondary schools
Gonzagarredi, in collaboration with pedagogists and educators, prepares ad hoc furnishing projects for each structure, favouring, whenever possible, the modality of participatory planning. Each context is always organized for a variety of educational intentions, to encourage learning and personal training of individual children in relation to their biological, psychic, social and cultural development and at the same time to strengthen, on an institutional level, communication and cooperation with families. Furniture and accessories are child-friendly, made of top quality, safe to use and non-toxic materials.
Feeling welcome in the school environment
The school entrance is a place that welcomes and communicates. Panels for displays and information, informal seating and a reception desk that welcomes students, teachers, families and school guests.
Meeting in the school's centre
The centre is a common use space, just like a city square. It is a rich and complex space that offers a range of opportunities. It is the space for daily meetings and for special events, also open to the local community.
Sharing spaces everywhere in the school
Corridors, corners and open spaces provide a network of places and of opportunities. Original furnishing offers everyone the chance to gather and discuss or to slip away to study, write, listen to music, in groups or alone.
Taking time around the classrooms
No space is overlooked. Even the access areas and locker rooms are pleasant. Niches, benches, informal seating transform every corner into a welcoming place to chat with friends, read, use a tablet.
Each school is a new and original project. Listening to needs, relating to the context, creating solutions are key to design the idea of a modern, functional and innovative school. From the general idea to the care for details, GAM designs spaces for the many ways of learning, teaching and building relationships among students and teachers.
Primary and secondary schools products
GAM has furnished thousands of primary and secondary schools in both Italy and abroad.