We imagine and build open, interconnected and creative learning environments.
Since 1925, the company has designed, manufactured and marketed innovative and customized solutions for nurseries, pre-schools, schools, libraries and cultural centres. Our Italian design furnishings are safe and built with materials and finishes of utmost quality and compliance with the most stringent European technical standards (UNI-EN).
Our products comply with the latest industry technical standards in force. Corporate policy (IT pdf).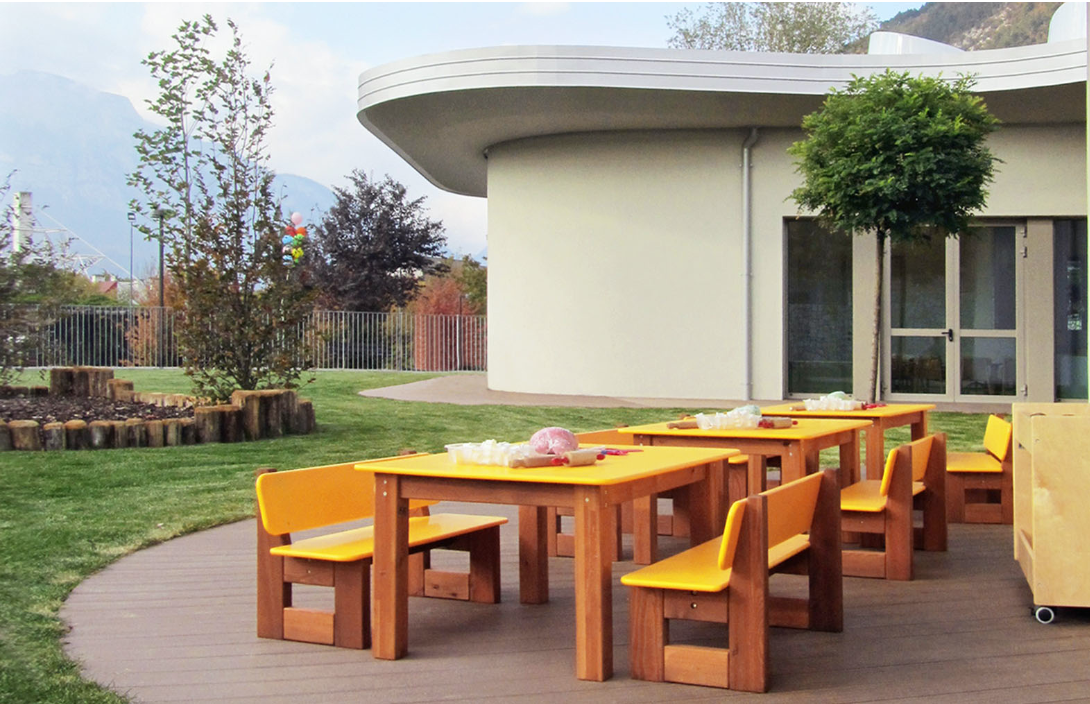 GAM GonzagArredi yesterday and today
In order to understand this reality it's necessary to take a step back to 1911, when the first production of Montessori Materials started, according to the specifications given by Maria Montessori herself, who in that period was a guest of her friend and great admirer Maria Maraini Guerrieri Gonzaga. The company, which at the beginning was a small workshop called "Ernesto Bassoli e Figli", became first a private company "Baroni e Marangon", and in 1975 a cooperative business enterprise under the name of "Gonzagarredi Soc. Coop.
Started since April the 1st 2014, the newco GAM GonzagArredi Montessori Srl (abbreviation G.A.M.) inherited the tradition of the cooperative company and melted it to the experience in manageent and to the productive capacity of iMilani, the company who holds the property.
GonzagArredi Montessori mantained the commercial structure of the cooperative company, and produces today equipment and furnitures for kids in infant toddlers, kindergartens, schools, libraries, day care, and Montessori educational materials.
The company has always worked in cooperation with university professors and experts in the field of furniture and education. New range of products, efficiency and the ability to respond to custom requests are essential characteristics in order to supply adequately schools and cultural or social buildings.
Montessori Materials are recognised and approved by Association Montessori Internationale (AMI), which was founded in Amsterdam by Maria Montessori. Gonzagarredi is the only company in Italy whose products are certificated by AMI association.
Experience, expertise and planning make GAM the leading Italian company in the conception and in the design and production of furniture for children's services, schools and libraries.
Each item is carefully crafted in terms of the quality of the materials and of the materials used. GAM also produces teaching materials for the Montessori Method and is the only Italian company accredited by the A.M.I. (Association Montessori Internationale).
Our specialist technicians have been involved in the furnishing of many public facilities and prestigious company nurseries. Their great experience has always been enriched by the collaboration with experts in the various sectors that ensure constant updating on a technical level.
GAM products are subjected to numerous safety, resistance and non-toxicity tests in authorised laboratories.

To assist a child we must provide him with an environment which will enable him to develop freely
GAM cooperates with other organisations, associations, cultural centres and in particular with schools of all levels.